Posted on October 29, 2018
— Higher education leader with 12 years of presidential experience selected as first male president at Hilbert —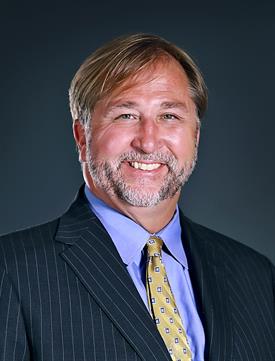 HAMBURG, N.Y. – Dr. Michael S. Brophy, former president of Benedictine University (Chicago and Phoenix) and Marymount California University (Los Angeles), has been named the fourth president of Hilbert College.  Brophy, who was born and raised in New York State, is the first male president in the College's 61-year history.  He will take office January 15, 2019.
Brophy will be introduced to the campus community by Peg Adams, chair of the Hilbert College Board of Trustees, at a press conference at 2 p.m. Friday, November 9 in the Franciscan Hall Atrium on the Hilbert campus.
"Dr. Brophy is an excellent fit for Hilbert College.  His extensive, relevant experience and commitment to the liberal arts in a Catholic setting make him an ideal president," Adams said. "We had three very strong finalists, and it is very gratifying that the Board's decision was unanimous.  It speaks to the amount of confidence we have in Dr. Brophy."
Brophy served as president of Marymount for nine years (2006-15) before being named president at Benedictine.  He became president of Marymount in 2006 when it was a small Catholic liberal arts college in Southern California. He led the transformation of the private two-year college to a multi-site university with undergraduate and graduate degree offerings, doubling enrollment, establishing athletic programs, leading successful fundraising campaigns, and spearheading facilities improvements that built new living and learning environments.
In 2015, Brophy was appointed president at Benedictine, and he led the University as it implemented its new strategic plan by increasing fundraising, opening a new college of business, implementing new academic programs, leading a program prioritization process, and growing its graduate, online, Arizona campus, and community college partnership enrollments. This strengthening of the University led to an increased Standard & Poor's financial rating and a reaffirmation of accreditation by the Higher Learning Commission. At both institutions, Dr. Brophy championed access and increased Hispanic student enrollment.
Prior to his presidencies, Brophy served as a campus dean within the University of Wisconsin system and as an enrollment management leader at Long Island University (New York), the State University of New York at Canton, and The Sage Colleges (New York).  Brophy also served as an enrollment consultant to the Kentucky, Indiana, and Louisiana community college systems.
"I look forward to representing and living the Franciscan tradition and values of Hilbert College," Brophy said.  "I am genuinely honored to be given the opportunity to lead Hilbert at a time when the incoming freshmen class is up 30% this fall.  I am eager to work closely with the passionate faculty, staff, students, alumni, and friends of Hilbert to advance this precious institution and assure its dynamic and thriving future.  I am deeply grateful to the members of the Board of Trustees and to the entire campus community for offering your faith in me."
Interim president Rev. Michael Sajda, OFM Conv., who took over September 1, 2018, when Dr. Cynthia Zane retired, will work closely with Brophy on a transition plan over the next few months.  Sajda will return to the role of chair of the Board of Trustees when Brophy begins this January, further facilitating a smooth transition.
"I am confident the trustees made an outstanding choice," Sajda said.  "Dr. Brophy's 12 years of presidential experience will benefit Hilbert College.  He will bring innovative and new ideas, and he has the experience that will help usher Hilbert College into the future."
"The students are excited to welcome Dr. Brophy to Hilbert College," said Angélica Reyna, a sophomore and president of the Student Government Association. "We are energized by the new ideas he will bring to Hilbert and look forward to learning more about his student-centric philosophy."
Brophy has a Ph.D. in educational leadership and policy analysis (2006) from the University of Wisconsin-Madison, a Master of Fine Arts in writing (2000) from Long Island University, a bachelor's in music (1984) and a master's in English (1990) from The College of Saint Rose.
A Fulbright recipient, Brophy has taught and conducted research in Europe and Cuba. He is also an accomplished filmmaker. Brophy has written, directed, and edited three films that screened at film festivals, theaters, museums, universities, and foundations throughout the United States, Cuba, and Europe. He has had screenplays selected to the Independent Feature Project Market in New York. As a musician, Brophy has accompanied gospel choirs and performed with students and faculty in classical, pop, and jazz settings.
He and his wife, Tara, currently live with their three children in Naperville, Illinois with plans to relocate to Western New York in the near future.
"We, as a family, are thrilled to be moving to the Western New York area and being a part of the noticeable resurgence," Brophy said.